🌷 Hello! I 'm Amelia and waiting for my mother. I am made by hand from the heart.
6 inch Mini silicone baby doll full body silicone.This miniature silicone baby doll will be a wonderful gift set for your daughter, girlfriend, colleague. Silicone girl will arrive in a beautiful box, with baby doll clothes, a certificate. You just have to give a gift, sending love.
🌷FEATURES:
Brand: Lovelydreamhouse Doll 100% handmade & high quality Reborn Doll
Clothes: All dolls will be dressed like the photo, socks or knitted boots.
Size: Approx. 6 inch / 15.24 cm
Weight: Approximately 0.66 lb / 300g.
Material: Full silicone body
Eyelashes: Hand rooted Mohair with a very fine needle and sealed from inside.
Nose: Nostrils are open, as if the Baby Doll is breathing.
Mouth: The lips are hand painted.
Nails: Natural white tipped and sealed finger and toe nails.
Skin: All Reborn's have a lovely subtle skin tone, mottling effect and after special treatment with multi-layer painting.
The silicone baby doll requires careful handling. Wash the hair with a hair balm, do not comb, but smooth it with a toothbrush, after bathing, grease the hair with hair oil. After bathing, sprinkle the doll with baby powder. The doll is painted! All details are in the photo.
⭕NOTE:
The materials and production methods of silicone dolls and vinyl dolls are different. Please read the following information carefully. If you place an order incorrectly, we will not accept returns and complaint cases.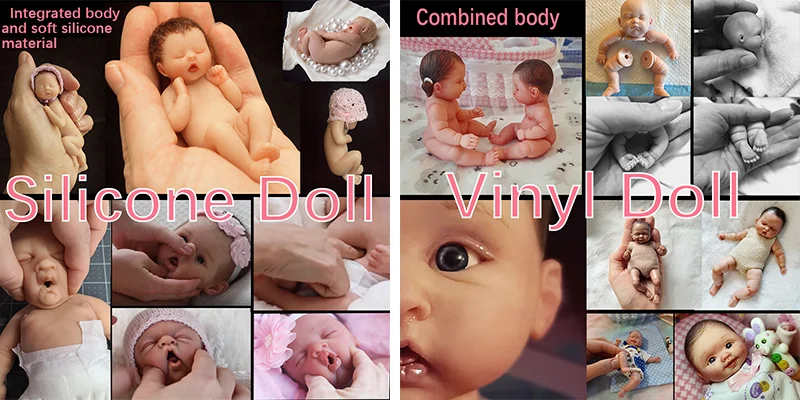 💖PACKAGE:
1 x Standard Baby Doll
(Baby Doll, Hat, Socks design/colour can vary depending on stock as all Reborn's are dressed in Real Baby Clothes and Made to Order)
USAGE:
1. Festival gifts, Birthday gifts for lovers and kids.
2. Play doll for Children and Grandma Accompany doll that will never let them feel alone.
3. Add to your Collection of Reborn Baby's.
4. For training of Maternity Matron, Nursery, mother-to-be.
5. Props for shooting TV or movie.
6. Health workers for Alzheimer's, Autism & and many more with special needs with huge health calming benefits.
A Message to My Valued Customers
*********************
Dear Friends,
Thanks for loving our Lovelydreamhouse dolls.
Before the Reborn is sent to you, we will wrap it well, we ship in a Standard Box.
We do not allow damaged/ bad products to be delivered. And the doll conforms to European (EN71-3) Standards, your children will be safe with it.
Your Reborn is sent via Tracked Delivery via Royal Mail and you will receive a Tracking Number on Shipment
If there is any problem after delivery, please do not hesitate in contacting us first, we will respond within 24 hours to solve any problems for you.
Thank you for your patience and Understanding, we are and will always be here waiting for you.
🚚SHIPPING:
   We ship worldwide, please feel free to contact us. NOTE:Remember that these baby doll are unique crafts,And made to order may vary slightly but never fails to be just as beautiful! ATTENTION: Due to the difficult situation in COVID 19 (closed borders, significantly reduced number of transport flights between countries) all parcels move very slowly! If you are not ready to wait about 30 days for your package, please postpone your purchase of items from my store!